How to check if a soldier is real?
The Internet has made the earth smaller. People from all parts of the world chat with each other and form bonds. Women in particular are getting to know soldiers online all the time.
But: is the soldier real?
All too often, scammers fake soldiers' profiles to meet women all over the world. The goal behind the fake profiles: The women's money.
Military romance scams: Scammers pretend to be soldiers
Windy scammers – often with an African background – make up names and steal pictures from the Internet. With this data, they create a profile in a network.
They go on platforms on the Internet like
Facebook
Twitter
Badoo
Lavoo
Dating sites
and all other imaginable sites.
They then proceed very inventively and pretend to be:
Members of the Air Force
US soldiers in the marine corps
British Forces Servicemen
Military doctor of the UNO
and so on.
Then they contact women or same-sex men all over the world.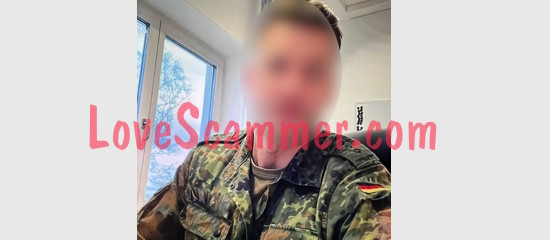 Is the person who sends you pictures real or are the pictures stolen?
The alleged soldiers invent an exciting story and then send
many pictures,
messages,
videos of songs
and poems
Generally, they tell that they are on duty in a foreign country. The profession entails that they are also stationed in areas where there is war or unrest. Or the war is over and now they are a soldier on a peace mission.
Quickly there is talk of love
The man writes again and again and thus penetrates the life of the woman. Soon there is talk of true love. A future together is within reach.
He always stays in touch with her and tells her about his dangerous everyday life in the war zone.
And he talks about the next mission under arms. In the process, he always lets her get the feeling that he loves her endlessly.
He talks about a time later after his service and the beautiful togetherness that awaits them both.
Quite purposefully, he builds up scenes that stir up some anxiety. The lady sometimes doesn't know what he is doing and worries if he will come back safely from the mission.
The service member asks for financial help
He claims he is not allowed to do chats by video because it is forbidden in the camp. Even if he agrees to a video, it may be a fake. Or he sends a small film stolen from YouTube or somewhere else.
Because the armed foreign mission is highly dangerous, he wants to leave the camp quickly. Actually, he survives every day only with good luck. To get out of the situation, he needs the help of his future spouse. Scam artists are very inventive.
She should as an example:
Submit a leave request to the UN.
Receive a package or a box that he wants to send to her home and that has valuable contents.
Make a request for leave as his fiancée.
Send money for communication fees.
Transfer money for medical treatment of family members.
The catch of the story is simple: all these scenarios cost the lady of his heart money. A lot of money.
How do you recognize such a scammer?
No matter whether the man is supposedly from the US Armed Forces or another army – you are always subject to the risk that he is a scammer.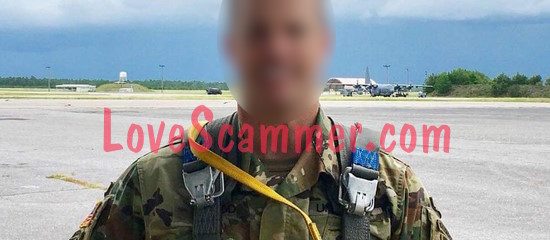 Often our investigators find out if a picture was stolen by a scammer.
To protect you from harm, you need to know a few things
Never send money to someone you know only from a picture neither by bank transfer nor by Western Union nor in Bitcoins.
Never send a photo of your ID to unknown people or companies.
Do not allow him to have money transferred to your account for you to forward.
Important: do not send him intimate photos or very personal photos.
If you strictly follow these rules, nothing much can happen to you. If you get carried away with transferring money despite all the warnings, you will probably be left with the damage. Even the police will not be able to help you.
You yourself have only limited possibilities to identify fakes. If in doubt, simply consult one of our private investigators. He will save you from becoming a victim of fraud.
But important: Talk to the private detective before you send money to someone who pretends to be a service member.
What can you do yourself to check the soldier is real – verify military service
How do you verify someone's military service? There are several ways to verify if a soldier is real:
Check his identification card or US military ID card. This should have his name, photograph, and other information that can be used to verify his identity.
Check his uniform and equipment. Make sure they match the standards of the branch of the military they claim to be from.
Check their documentation. A real soldier will have documentation such as discharge papers, training certificates, and other records that can be used to verify their military service.
Contact his US military email. Each soldier has a military email address (note no gmail address or similar email address). Service members of the U.S.A. all have a .mil email address.
Ask for his complete name, his social security number and his home address.
Check if his photos are real or stolen from elsewhere on the Internet with a reverse image search. Often, photos of real military personnel are stolen and misused.
Insist on a video chat. All military members in active duty are allowed to video chat.
Unfortunately, there aren't public military database records available that you can search online. They also cannot request military records from an active service member of the armed forces or obtain military status information.
We help you to find out the truth about military personnel
No matter how well you like your chat partner: do not get involved in foolishness.
The US Army or other military services will not tell you if you are communicating with a real service member.
If you really want to know where you stand, we will help you. Is the soldier real? We will find out. Just use our military verification service. BUT: We do not offer a free military background check. A fee is due for our services. As a rule, this is affordable for everyone.
Our private detectives are specialized in identifying impostors. We will determine for you whether you are dealing with a romance scammer or a real person. Actually, we are familiar with all romance scams and are able to expose online scammers.
With the help of our investigations many victims have already escaped a financial disaster. We do not even want to talk about the emotional damage. This is impossible to quantify anyway.
If you also want to avoid the dangers that such a chat contains, let us advise you. Unfortunately, we experience again and again that victims contact us too late. They get in touch once the initial damage has already been done. Contact us now to protect yourself from military scam and prevent falling victim to it.
Get peace of mind: Contact us today
If you use the contact form on our website or send us an email, your data and contact details will be saved for processing and in case that you have further inquiries. The saved information will not be handed to third parties, unless you agree to it. More information: Privacy Policy
By submitting this message, I acknowledge the privacy policy. I agree to the electronic processing of my personal data for the purpose of establishing contact.